Hosting is one of the most important components of a website. It is essentially the place where your website lives on the internet, and it is what allows visitors to access your website at any time. Without hosting, your website would simply be a collection of files stored on your computer or server, and it would not be accessible to anyone else.
In this article, we'll take a closer look at hosting and explore some of the key factors you should consider when selecting a hosting provider for your website.
What is Hosting in Website?
Website hosting refers to the process of storing and maintaining files that make up a website on a server that can be accessed by anyone with an internet connection. Website hosting companies provide this service, allowing individuals and businesses to have a presence on the Internet.
When a website is created, it consists of various files such as HTML, CSS, JavaScript, images, videos, and databases. These files need to be stored on a server so that they can be accessed by anyone who wants to view the website. Website hosting companies provide this service by renting out server space to website owners.
Web hosting is a service that provides online space for storing web pages, making them available via the World Wide Web. The companies that offer this service are known as web hosts.
Web hosts maintain servers that remain operational 24 hours a day, 7 days a week. These servers are responsible for hosting the websites and each server has its own unique IP address. However, IP addresses can be difficult to remember, so webmasters point their domain name to the IP address of the server their website is stored on.
It's not feasible to host a website on a local computer because it would require leaving the computer on constantly. This is not only impractical but also more expensive. This is where web hosting companies come in, providing a more reliable and cost-effective solution for hosting websites.
When selecting a website hosting service, it's important to consider factors such as uptime, speed, security, and customer support. Some popular website hosting companies include Bluehost, HostGator, SiteGround, and GoDaddy.
How does Web Hosting Work?
Web hosting is the process of storing and delivering website files to the internet. A website consists of various files, images, applications, and databases, which are stored on a hosting provider's website server. This server is continuously powered on and connected to the internet.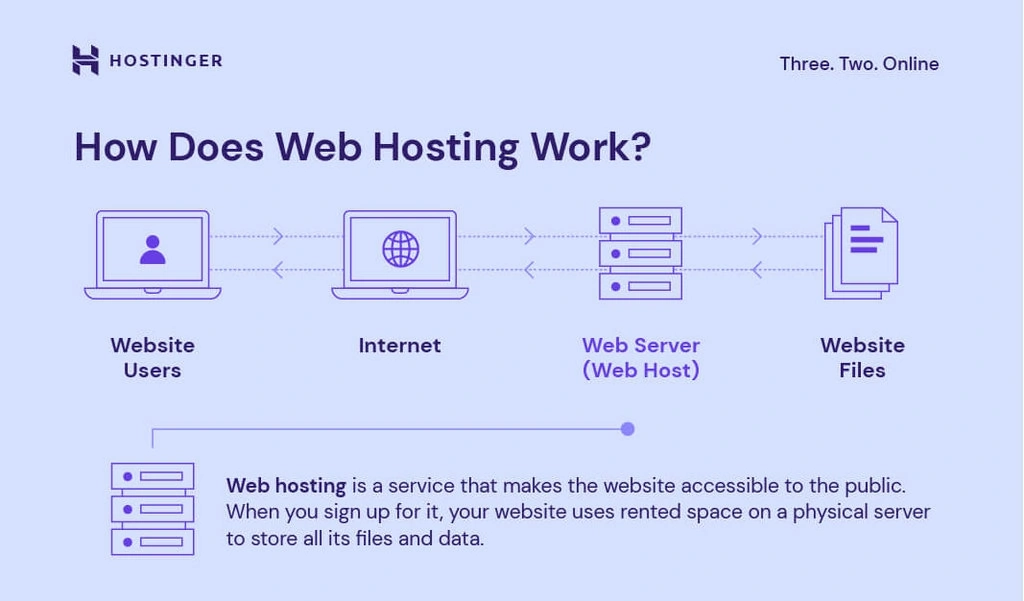 When a user tries to access a website hosted on a web server, the following steps take place:
The user enters the URL or domain name of the website into a web browser.
The browser translates the domain name into an IP address.
The browser sends a Hypertext Transfer Protocol (HTTP) or HTTP Secure (HTTPS) request to the web server that is renting the website space.
In response to the request, the web server locates the resources needed to load the requested web page and transfers the files to the user's web browser.
The user's browser then displays the website content in the browser window.
The amount and type of server resources allocated to a website by the hosting provider are determined by the hosting subscription plan. Most hosting providers offer flexible plans, including shared and dedicated services.
After signing up for a hosting plan, website owners typically get access to the web hosting provider's server via a cPanel dashboard that simplifies the process of uploading and managing website files. Alternatively, a website owner might install a content management system (CMS) such as WordPress to build out the website.
Types of Web Hosting
Here is a detailed table of information on the different types of web hosting:
| Type of Web Hosting | Description | Pros | Cons |
| --- | --- | --- | --- |
| Shared Hosting | Multiple websites share a single server and its resources | Affordable, easy to use | Limited resources, limited control over server configuration |
| VPS Hosting | Virtual private server where a single physical server is divided into multiple virtual machines, each with its own resources | More control over server configuration, scalable | More expensive than shared hosting |
| Dedicated Hosting | A physical server dedicated to a single website or organization | Complete control over server configuration, high performance | Expensive, requires technical expertise |
| Cloud Hosting | A network of servers that work together to host websites and provide resources as needed | Scalable, high availability, pay-for-what-you-use pricing model | Potentially more complex, can be more expensive |
| Managed Hosting | A hosting service where the hosting provider manages the server and software for the customer | Less technical expertise required, less time-consuming | Can be more expensive, less control over server configuration |
Website hosting service provider companies
Here is an example of a table that compares some common features of web hosting providers:
| Sr No | Web Hosting Provider | Key Features |
| --- | --- | --- |
| 1. | Bluehost | Reliable uptime, fast loading times, 24/7 customer support, free SSL certificate, automatic backups, scalable hosting plans |
| 2. | SiteGround | High-performance hosting, 24/7 customer support, free SSL certificate, automated updates and backups, easy site migration, multiple data center locations |
| 3. | A2 Hosting | Fast server speeds, 24/7 customer support, free SSL certificate, unlimited storage and bandwidth, free site migration, option for turbo servers |
| 4. | HostGator | Reliable uptime, 24/7 customer support, free SSL certificate, automatic backups, unmetered bandwidth, user-friendly control panel |
| 5. | InMotion Hosting | Fast loading times, 24/7 customer support, free SSL certificate, automatic backups, free site migration, 90-day money-back guarantee |
| 6. | DreamHost | Reliable uptime, fast loading times, 24/7 customer support, free SSL certificate, unlimited storage and bandwidth, user-friendly control panel |
| 7. | GreenGeeks | Environmentally-friendly hosting, fast server speeds, 24/7 customer support, free SSL certificate, automatic backups, scalable hosting plans |
| 8. | WP Engine | Managed WordPress hosting, fast loading times, 24/7 customer support, free SSL certificate, automatic updates and backups, developer tools and staging environments |
| 9. | Liquid Web | High-performance hosting, 24/7 customer support, free SSL certificate, automatic backups, cloud-based hosting options, custom server configurations |
| 10. | GoDaddy | Affordable hosting plans, 24/7 customer support, free SSL certificate, user-friendly control panel, unlimited storage and bandwidth, option for Windows-based hosting |
It's important to note that this table is not exhaustive and there may be other web hosting providers with different features that are more suitable for your specific needs. It's recommended to do your own research and read reviews before choosing a web hosting provider.
Why is web hosting important?
Web hosting is important because it allows individuals and organizations to make their website accessible via the World Wide Web. Without web hosting, websites would not be available online and would not be able to reach their intended audience.
Web hosting services provide the necessary infrastructure and technologies to store and serve website content to users. They typically provide storage space on servers, bandwidth, and other resources that are needed to deliver websites to users. They also provide security features to protect websites from attacks and data loss.
In addition to making websites available online, web hosting also enables website owners to customize their websites and manage them effectively. With web hosting, website owners can install and use various software applications and tools to enhance their website's functionality and performance. They can also monitor their website's traffic and usage, and make changes as needed to improve their website's user experience.
How to choose a good website hosting service?
If you're looking to choose the best web hosting service provider for your website, there are several factors to consider. As your website grows, you may need to upgrade to a more advanced hosting solution, such as cloud hosting or VPS. Therefore, it's important to select a provider that offers a variety of web hosting services so you can easily upgrade.
Here are some other factors to keep in mind:
Control Panel: Choose a web host that provides an easily manageable user interface for users of all skill levels to work with. A hosting control panel allows you to manage your hosting account without having to log in to the web server. At Hostinger, we offer hPanel, which lets you manage your files, create a full backup and install associated applications to your website quickly and efficiently.
Web Host's Uptime: Frequent and unexpected downtime due to poorly maintained or unstable web servers can seriously impact your business and customers' trust. Therefore, ensure the host you select meets the uptime guarantee they advertise. An uptime guarantee and fair terms of service reflect the commitment of hosting companies to keep their systems up and running.
Technical Specifications: Apart from choosing hosting services with enough disk space, processing power, and bandwidth, look for other features that help your website run smoothly. At Hostinger, our servers operate on CloudLinux and we adopt LiteSpeed technologies to speed them up.
Online Reviews: Research website hosting reviews that provide in-depth information on different web hosting service providers. Most online reviews include information about uptime and speed, so you will be able to see how the provider's servers actually perform.
Security: Ensure that the hosting provider is well-equipped with advanced security measures to help protect your site from malware or DDoS attacks. These measures may include access management, malware detection, automated backups, and updates.
24/7 Customer Support: Round-the-clock customer or technical support comes in handy if your website encounters unexpected lags, crashes, or even security breaches. Check if the host also provides support resources such as tutorials and knowledge bases.
Additional Services: A great hosting plan offers excellent value for money if it contains free add-ons and features such as an SSL certificate, a business email account, or a content delivery network (CDN).