Affiliate Disclosure: Please note that this post contains affiliate links. If you choose to purchase, we may get a commission
Is buying good web hosting at a cheap rate possible in India?
Buying cheap web hosting in India is possible. You can have the best web hosting service at a cheap rate. For this, you don't have to compromise essential web hosting features. Undoubtedly in the current market situation Hostinger is a leading web hosting service provider at an unbeatable price. And if we talk about quality hosting service at low prices Bluehost and Dreamhost are leading markets.
You don't have to worry about highly paid hosting features if you are just starting a new blog or website. Just like more than 90% of beginners you can also set up a website under $3 per month. Many cheap hosting providers offer cheap web hosting per year plan up a maximum of $35 per year. In this post, we will only see about cheap and best web hosting providers in India.
There are lots of cheap web hosting service providers in India (see full list). Lots of them are local businesses also just like MilesWeb.in web hosting company. But the problem with local businesses is that they are still struggling with top-notch service quality. On another hand international web hosting companies like Bluehost (Endurance International Group) actively running their campaign in India.
We at cheaperhosting.in working on various web projects hosted on such web hosting providers. We have carefully reviewed their services. After such 11+ years of web hosting experience, we can say one thing for sure is "which cheap web hosting service is for you".
Hostinger is the most affordable hosting service provider today. Hostinger provides a single site hosting plan with FREE SSL with 74% discount offer. This startup plan is plenty enough for ~10,000 visitors per month. You can upgrade any time.
How is cheap hosting service by Hostinger India?
Here is a quick review of Hostinger
Overall Rating : 4.9 out of 5.0 stars4.9
Essential Features: Sufficient
Performance: Very fast, <300ms TTFB from India
Reliability: Very reliable
Cost: Low renewal cost. Extra cost for extra addons
Customer Support: Satisfactory, sometimes delayed.
Verdict : Very good performance & unbeatable low-cost service provider in this list. Low renewal cost.
How is the starter hosting plan by Hostinger in India?
Hostinger's Starter plan @ ₹69/mo (83% off)
Single website
Free SSL certificate
1 click site setup & backup
Lightening fast cache (LSCWP)
Managed WordPress
30 GB website SSD space
100 GB bandwidth
30 days money back guarantee
24/7 Support
Hostinger is a very reliable web service provider. It offers special low-cost starter hosting plans with a free .in domain for Indian web hosting customers. It offers a custom landing page in Hindi. Even this cheaperhosting.in the website is hosted on hostinger.in with a premium hosting plan.
How is the premium hosting plan by Hostinger in India?
Hostinger's Premium 100 website hosting plan starts @ ₹149/mo. (75% off)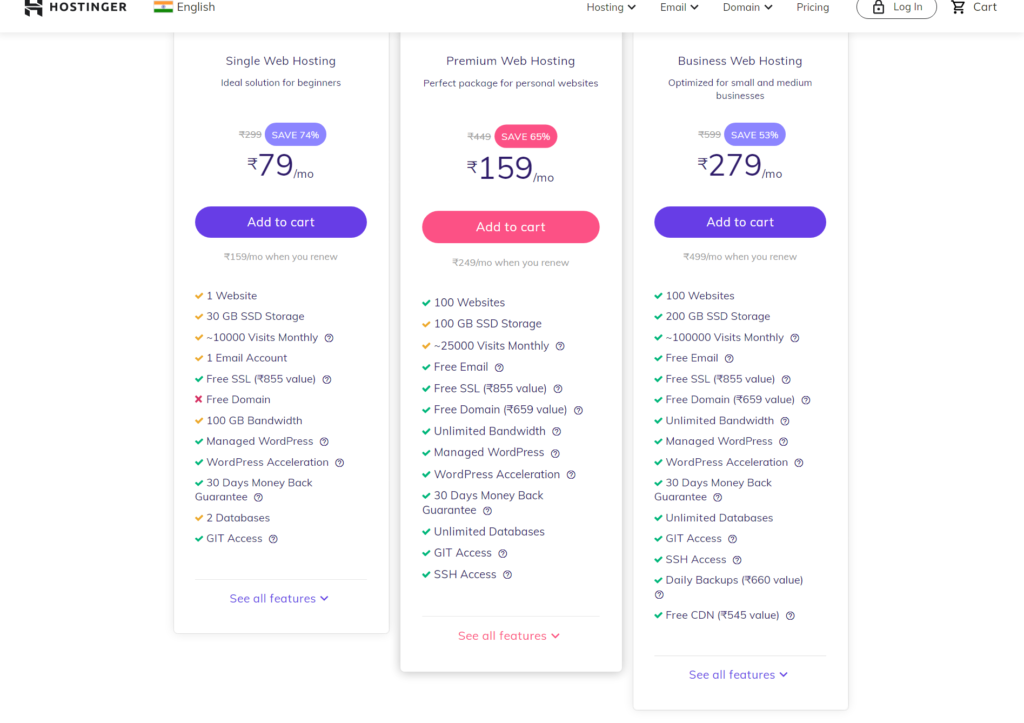 To avail above offer, you have to sign up for a 48-month contract, which sounds a little heavy. But, It is really cheap offer comparing other service providers. This 48 months (4 years) of Single Shared is going to cost less than a single year of hosting through most other web hosting providers. 
Seriously, you will find other low-budget hosting plans are still double to quadral times as expensive. Plus, the introductory rates you get with competitors might go high when you have to renew. Once the first term period is over, you might be looking at $8 to $10 or more each month.
What hosting features will get after purchasing hosting from this offer?
Following are some of the key features of Hostinger.com,
Lowest price to the highest quality: It offers the lowest price to the highest quality – inexpensive premium web hosting. Its cloud web hosting technology makes today's cheap web hosting with MySQL, FTP & PHP more powerful than you might think.
Cheap prices, maximum effort : Don't let the price fool you. Cheap hosting is no more synonymous with bad service. Hostinger takes the same effort to put in lowering prices and upgrading offered products and services.
30-day money-back guarantee : Hostinger.com helps you build & publish quality websites without breaking the bank by providing almost unlimited cheap web hosting and exclusive cheap domain registration deals. And, offers no question 30 days money-back guarantee.
Guaranteed service & quality : Experienced web hosting services allow them to guarantee to give you the quality and value of our services.
What are the cons of this hosting service offer?
Now let's talk about what is cons if you choose to host with Hostinger.
Only one free SSL, then have to purchase second.
You will not get cPanel in this price insted hPanel is offered (which is good enough)
30 to 60 min delayed tech support.
But, all of the above cons didn't stop us to host our web projects on hostinger.com. We are successfully running them. And🔗 Hostinger can be recommended as the Cheap And Best Web Hosting In India.