Affordable hosting ensures that users can launch and maintain their websites without breaking the bank. By promoting cheaper hosting options, you are not only helping your audience save money but also providing them with a solid foundation for their online presence.
In this article, we will explore the realm of cheaper hosting providers that offer the highest commissions for affiliate marketers. By identifying these lucrative programs, you can leverage your marketing skills and earn substantial rewards while helping others find affordable hosting solutions.
Affiliate marketing is an excellent way to earn passive income by promoting products and services you believe in. When it comes to web hosting, there is a wide range of options available, each with its own set of features and commission structures.
Cheaper Hosting Providers with High Commissions
There are lots of web hosting service providers that offer cheap web hosting plans, but few of them run their affiliate programs with high payouts. Hostinger, Bluehost, Dreamhost, iPage, etc. are at the top of the list.
Things to remember while reviewing affiliate programs,
When it comes to affiliate programs, commission structures play a pivotal role in determining your earnings. While some hosting providers offer flat-rate commissions, others provide a percentage-based system that rewards you based on the customer's spending.
Consider the commission rates, cookie duration, and payout thresholds when evaluating different hosting affiliate programs, here are top picks for you,
| Hosting Provider | Starting Hosting Plan Rate | Commission Structure | Payout Threshold | Cookie Duration | Joining Link |
| --- | --- | --- | --- | --- | --- |
| Hostinger | $1.99 -$2.99/mo | Starting Commission: 60% per sale | $100 | 30 days | Hostinger Affiliate |
| DreamHost | $2.95/mo | Commission Range: Up to $200 | $100 | 97 days | DreamHost Affiliate |
| iPage | $1.99/mo | Commission Range: $105 to $150 | $100 | 120 days | iPage Referral |
Please note that the commission structure changes frequently.
Hostinger Affiliate Program
Hostinger is a well-known hosting provider that offers affordable and feature-rich hosting solutions. Their affiliate program provides an opportunity to earn substantial commissions for promoting their services.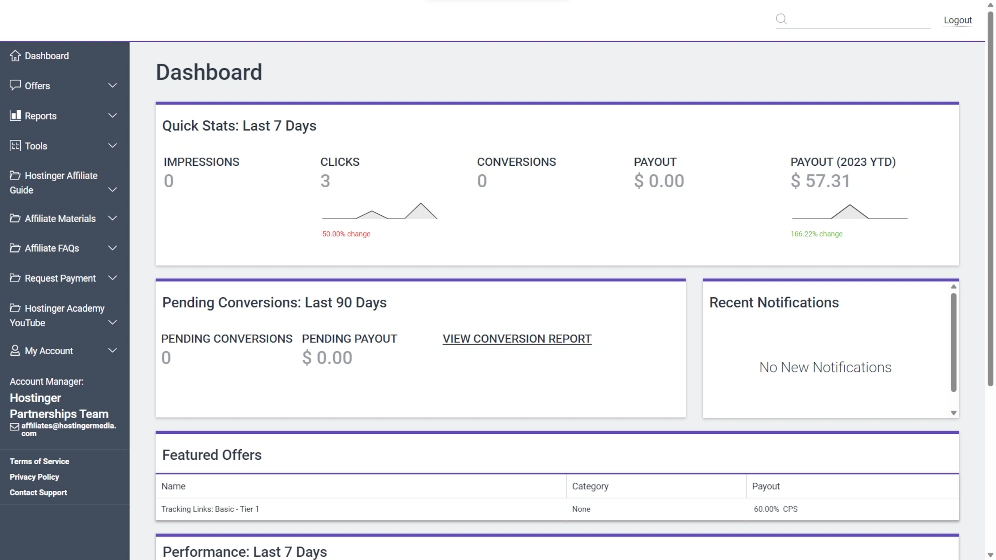 Commission Structure:
Starting Commission: 60% per sale
Payout Threshold: $100
Cookie Duration: 30 days
Hostinger offers a tiered commission structure, where the more sales you generate, the higher your commission rate becomes. Here's a breakdown of their commission tiers based on the number of sales:
1-10 sales per month: 60% commission
11-20 sales per month: 70% commission
21-30 sales per month: 80% commission
31+ sales per month: 90% commission
DreamHost Affiliate Program
DreamHost is a reputable hosting provider known for its reliable services and commitment to customer satisfaction. Their affiliate program offers attractive commission rates and long cookie duration.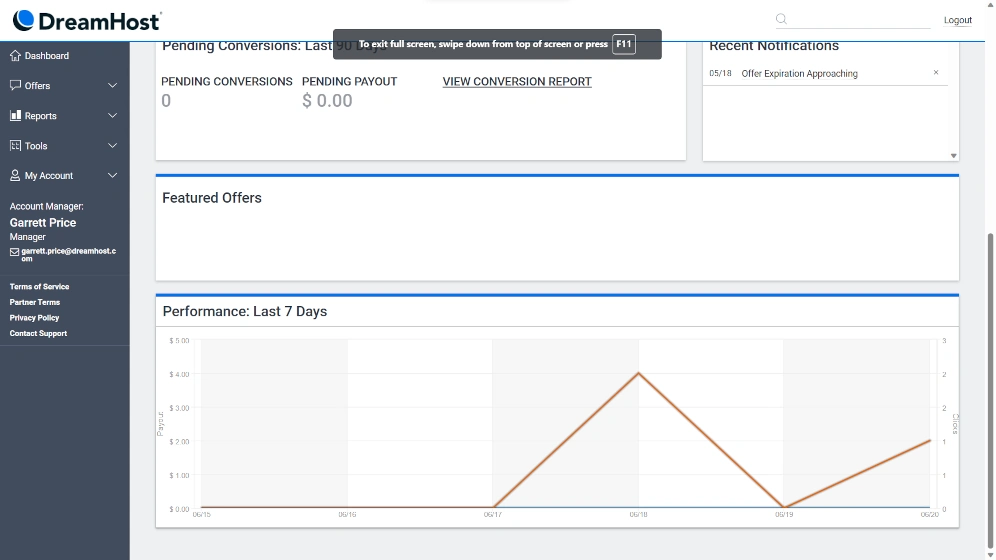 Commission Structure:
Commission Range: Up to $200 per sale
Payout Threshold: $100
Cookie Duration: 97 days
DreamHost provides a commission structure that depends on the type of hosting plan purchased by the customer. The commissions are as follows:
Shared Hosting: $50 per sale
DreamPress Hosting: $75 per sale
VPS Hosting: $100 per sale
Dedicated Hosting: $150 per sale
Monthly Plans (Shared and DreamPress): $30 per sale
Additionally, if a customer signs up for the annual plan, you'll receive an extra $10 on top of the base commission.
iPage Affiliate Program
iPage is a popular hosting provider that focuses on simplicity and affordability. Their affiliate program offers competitive commission rates and a variety of promotional resources.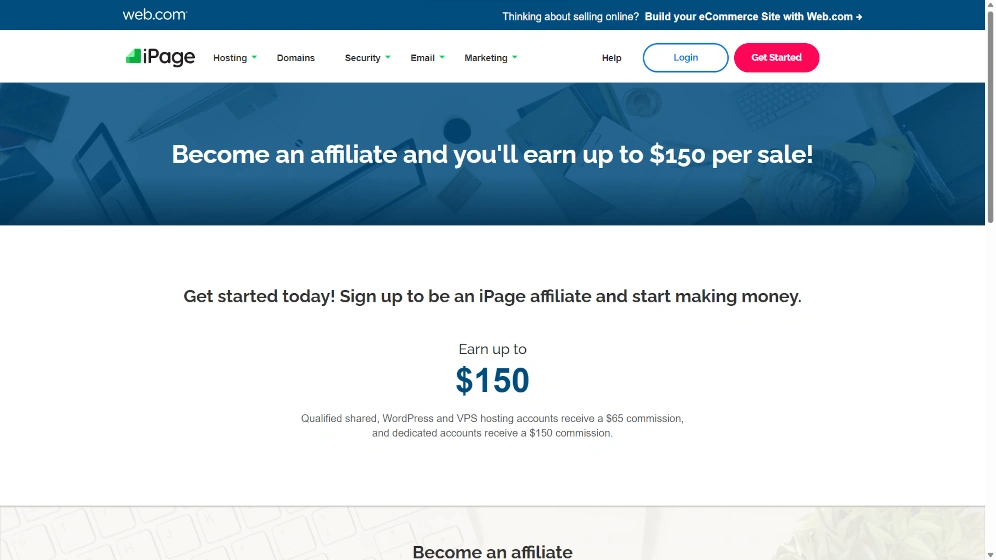 Commission Structure:
Commission Range: $105 to $150 per sale
Payout Threshold: $100
Cookie Duration: 120 days
iPage's commission structure is based on the number of referrals you make per month. Here's an overview of their commission rates:
1-5 sales per month: $105 per sale
6-10 sales per month: $125 per sale
11-20 sales per month: $135 per sale
21+ sales per month: $150 per sale
iPage provides a range of promotional materials, including banners, text links, and special offers to assist you in promoting their services effectively.
Strategies for Successful Promotion
To maximize your earnings, it's essential to employ effective marketing strategies. Here are a few tips to promote cheaper hosting providers successfully:
a) Content Marketing: Create informative blog posts, tutorials, and comparison articles to educate your audience about the benefits of affordable hosting. Incorporate your affiliate links naturally within the content to encourage conversions.
b) Video Reviews and Tutorials: Leverage the power of video content by creating engaging reviews and tutorials showcasing the features and benefits of the hosting providers. Include your affiliate links in the video description or as overlays.
c) Social Media Engagement: Utilize social media platforms to engage with your audience and promote the hosting providers. Share informative posts, answer questions, and offer exclusive discounts to attract potential customers.