Something went wrong with website hosting and want to connect with Hostinger's live chat support, but don't find where is it. Dont worry. You are not alone I also face the same issue many times as I forget where to look for the Hostinger live support chatbox.
So, I decided to settle this headache permanently.
In this article, I will give you a direct link to initiate chat support as fast as possible. And the conventional method to look for support on specific problems.
Hostinger Live Chat Link
Here is the direct link to initiate a support chat box popup. Remember you must be logged in before going to the following link.
Go to: Hostinger Help Page
After opening the above link, describe your problem and hit "enter" as shown in the following screenshot.

It will open a live support chatbox popup. Now, provide the necessary information about your issue. One of the live support agents will attend to your issue.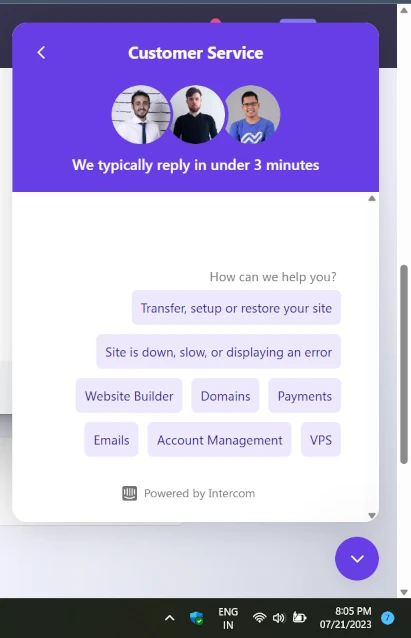 It's obvious you don't need to come back to this page every time for a faster live chat access link. For this, you need to remember where to look for live chat support next time from your hPanel.
Here is the conventional method to access live chat support.
Contact Hostinger Live Support (Regular Method)
Remember this conventional method so it will be easy for you to get quick support access.
Step 1: Log in to Your Hosting Account
To begin, visit the Hostinger website and log in to your account. Locate the "Login" or "Sign In" option on the top right corner of the homepage. Enter your credentials (username and password) to access your account dashboard.
Step 2: Navigate to the Help Center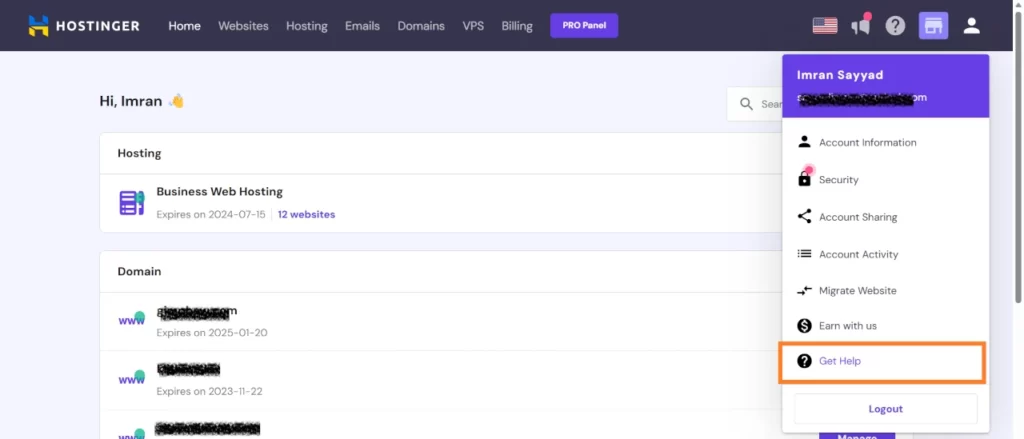 Once you are logged in, navigate to the Hostinger Help Center. You can usually find this option by clicking on your account name or avatar in the top right corner and selecting "Get Help".
Step 3: Choose the Right Category
In the Help Center, you will find a variety of categories related to common issues and topics. To expedite the process, choose the most relevant category that closely matches your concern. It could be anything from "Account and Billing" to "Website and Hosting" or any other specific section.
Or, just skip to the bottom and click on the "Chat option" if available.
Step 4: Access the Live Chat
If you couldn't find a suitable solution through the Help Center, it's time to initiate a live chat session. Look for the "Live Chat" or "Chat Now" button within the Help Center or the support page. Hostinger's live chat support is usually available 24/7, ensuring assistance at any time of the day.
Step 5: Provide Relevant Information
Before the live chat session begins, the support system may ask you to provide some essential details related to your query. Be ready with relevant information like your account username, domain name, and a brief description of the issue you're facing. This will help the support team understand your problem quickly and provide targeted assistance.
Step 6: Be Patient and Polite
Once you're connected with a support agent, maintain patience and politeness throughout the conversation. Understand that they may be assisting multiple customers simultaneously, and your cooperation will go a long way in ensuring a productive interaction.
Step 7: Follow Instructions and Troubleshoot
The support agent will guide you through the troubleshooting process step-by-step. Follow their instructions carefully and provide any additional information they may require. If necessary, be prepared to share screenshots or error messages to help them understand the issue better.
Step 8: Confirm Resolution and Express Gratitude
After the issue has been resolved or guidance provided, confirm with the support agent that everything is working as expected. If the problem persists, seek clarification or ask for further assistance. Always express your gratitude for their help and expertise.