Webhosting is server storage space where your websites are stored. To access, modify and configure those stored websites need an upper layer management user interface called web hosting panels. Some of such top web hosting server management software panels are,
cPanel
Plesk
DirectAdmin
Webmin
ISPConfig
Virtualmin
A few years back, Hostinger added a new popular dashboard panel with the name "hPanel". Since then it is the default hosting control panel on Hostingers shared plans and it is continuously improving and being liked by users because of its easy and clean interface.
What is hPanel?
HPanel is a hosting control panel developed by Hostinger web hosting company. Hence it is only available to their customers. It is a web-based dashboard and controls panel-like interface that allows users to manage various aspects of their hosting account.
It allows managing and configuring websites, creating and managing email accounts, editing website files, and managing databases. It allows you to see usage, performance, and access statistics in an intuitive way.
Here is an official screenshot of hPanel released by the company,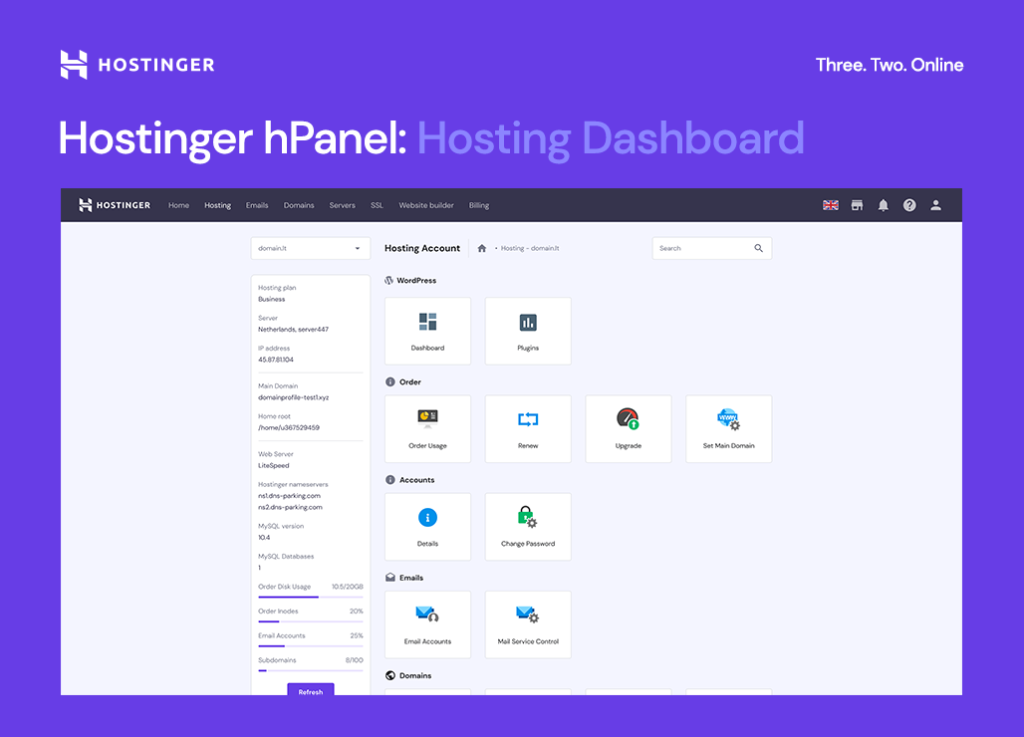 With HPanel, users can also access various tools and resources to help them build and maintain their websites, such as a website builder, website templates, and a file manager.
HPanel is designed to be user-friendly and intuitive, making it easy for users to manage their hosting account and website without the need for technical expertise.
How to access hPanel?
To access HPanel you just have to login in Hostinger account. The default panel dashboard will be in front of you and it will show you the list of purchased hosting plans and installed websites.
From the dashboard, you can navigate to six basic sections as follows,
Websites
Hosting
Emails
Domains
VPS
Billing
As the names of sections suggested, they contain further options such as the "Websites" section will let you edit and manage websites, and the "Domain" section will let you register, manage and renew domain names.
Anywhere in the hPanel, there is a search bar to look for the feature if you don't remember in which section to look for it.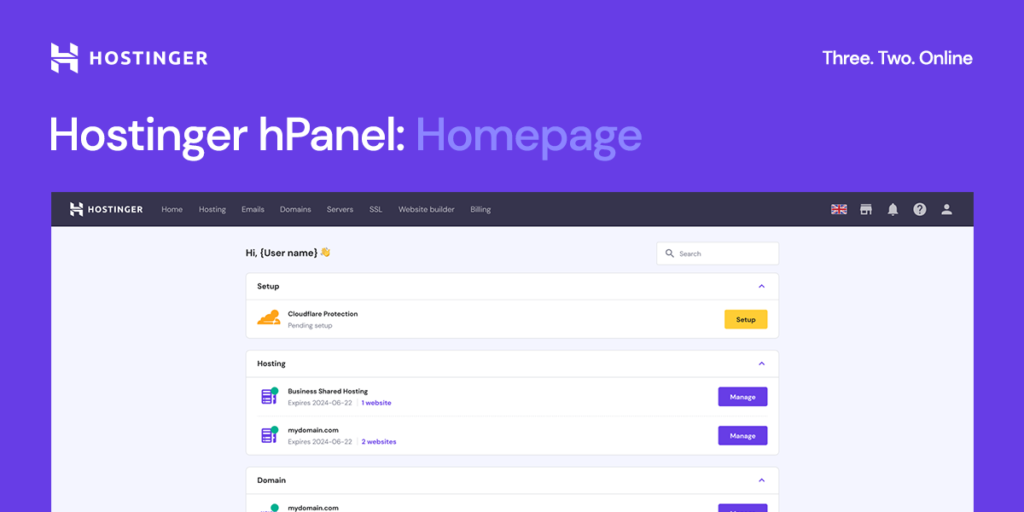 Features of the hPanel
Here are some of the main features of HPanel:
Email Management: HPanel allows users to create and manage email accounts for their domain, including setting up email forwards and autoresponders.
File Management: HPanel includes a file manager that allows users to access, edit, and manage their website files, including HTML, CSS, and JavaScript files.
Website Builder: HPanel includes a website builder that allows users to easily create and customize their own website, even if they have no coding experience.
Website Templates: HPanel offers a range of pre-designed website templates that users can choose from to get started with their website.
Database Management: HPanel includes tools for managing databases, including the ability to create and delete databases, import and export data, and manage database users.
Statistics and Analytics: HPanel provides users with detailed statistics and analytics about their website, including information on website traffic, page views, and the most popular pages on their site.
Resource Management: HPanel allows users to manage the resources their website uses, including bandwidth, storage, and CPU usage.
Security: HPanel includes various security features to help protect users' websites and hosting accounts, including SSL certificates, firewall protection, and regular security scans.
Customer Support: HPanel provides users with access to customer support resources, including a knowledge base, video tutorials, and a ticketing system for submitting support requests.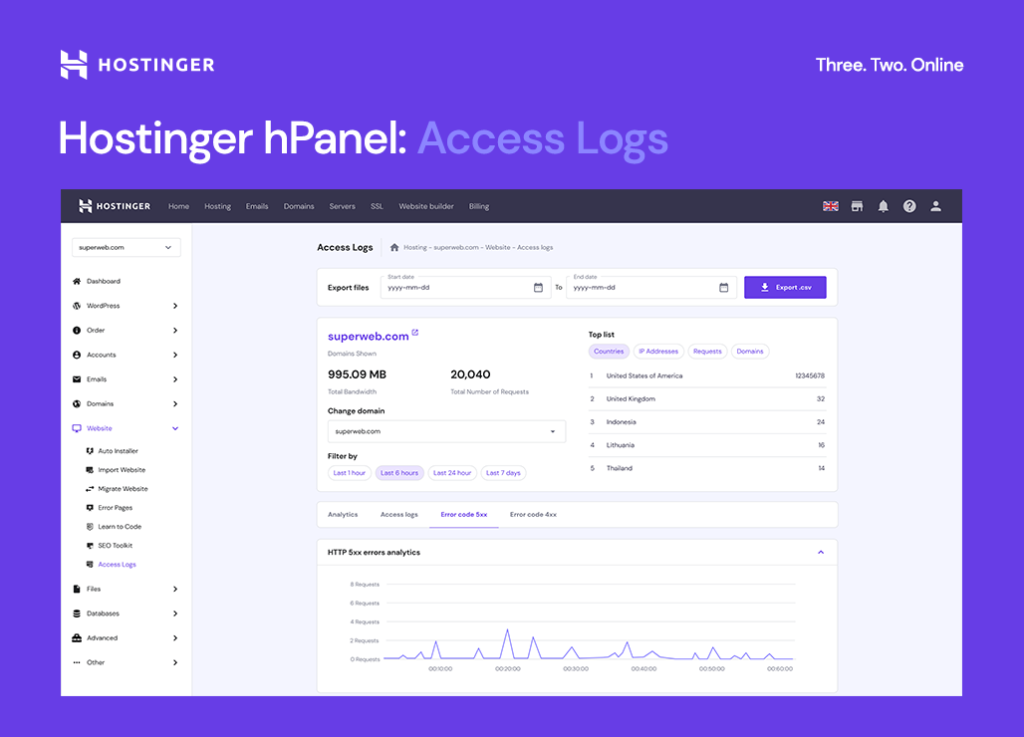 Hostinger hPanel vs cPanel
HPanel and cPanel are both hosting control panels that allow users to manage their hosting accounts and websites. While there are some similarities between the two, there are also some key differences to consider.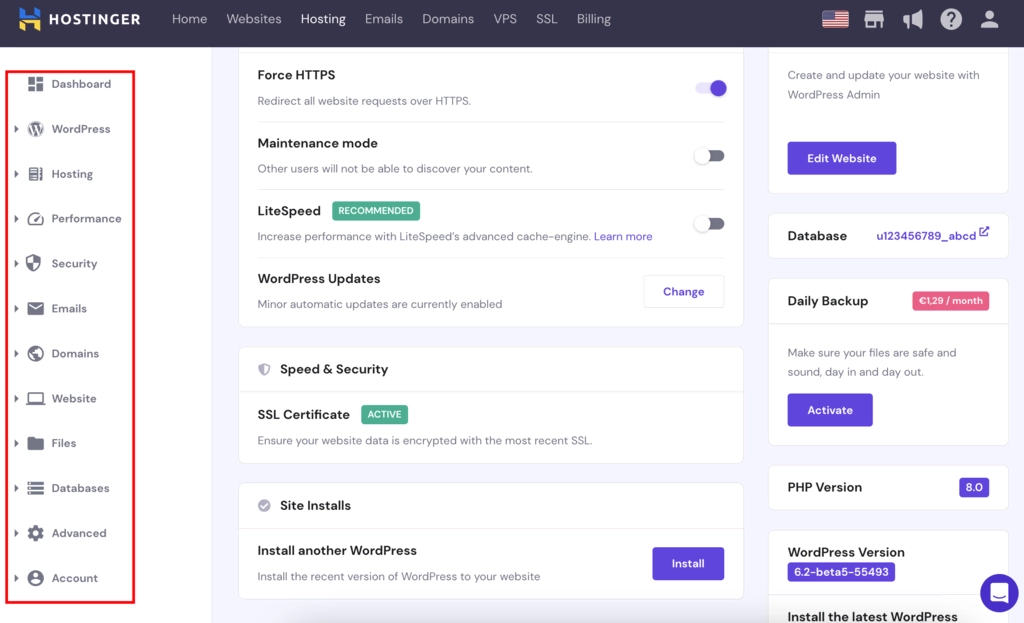 One of the main differences between HPanel and cPanel is the user interface. HPanel has a modern, intuitive interface that is designed to be easy to use, even for beginners. cPanel, on the other hand, has a more traditional interface that may be more familiar to experienced users but may be less intuitive for those who are new to hosting control panels.
Another difference is the range of features offered. Both HPanel and cPanel offer a range of tools for managing websites, such as email management, file management, and database management. However, cPanel tends to offer a wider range of features, including additional tools for managing server resources, monitoring website performance, and optimizing website security.
One of the key advantages of using hPanel over cPanel is that hPanel displays only the necessary sections and options needed in your hosting plan. Where the cPanel feature list all look similar regardless purchased plan.
Ultimately, the choice between HPanel and cPanel will depend on your specific needs and preferences. Both are powerful hosting control panels that offer a wide range of features and tools, but the user interface and feature set of each may be better suited to different users.
Conclusion on hPanel
However, it's worth considering that hPanel might not be the best option if you are currently using a different web hosting provider. Some features and functionalities of hPanel are specifically tailored to work optimally with Hostinger's hosting infrastructure. In such cases, it might be better to stick with the control panel provided by your current hosting service.
If you're uncertain whether hPanel is the right fit for your needs, the best way to find out is to give it a test run. Hostinger often offers trial periods or money-back guarantees, giving you the opportunity to explore the features and determine if it aligns with your requirements. Additionally, you can always reach out to Hostinger's dedicated support team for assistance.
They are available to answer any questions you may have and can help you get started with hPanel should you decide to give it a try.